Massy Stores Pharmacy in collaboration with Care Lab now offers Medical Laboratory Services.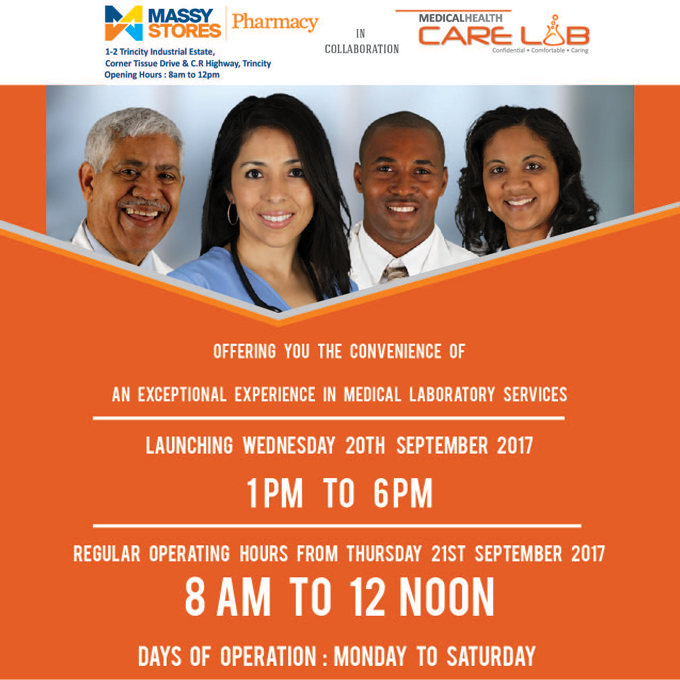 Join Us on Thursday 06 April 2017, 10 a.m. at Gulf View, in an interactive doctor and dietitian-led session on optimising health for those affected by or living with persons with chronic disease.
Limited space available.
Source: Web MD
FISH:high in omega-3s, such as salmon, tuna, mackerel, herring and trout.
NUTS: A handful of healthy nuts such as almonds or walnuts will satisfy your hunger and help your heart.
Berries are full of heart-healthy phytonutrients and soluble fiber. Try blueberries, strawberries, cranberries or raspberries in cereal or yogurt.
Flaxseeds contain omega-3 fatty acids, fiber and phytoestogens to boost heart health. Take them in ground or milled form to reap the greatest benefit.
Oatmeal: the comfort-food nutrient powerhouse.
Dark beans, such as kidney or black beans, are high in fiber, B-vitamins, minerals and other good stuff. Veggie chili, anyone?
A 4-ounce glass of red wine (up to two for men and one for women per day) can help improve good (HDL) cholesterol levels.
Try marinated tofu in a stir-fry with fresh veggies for a heart-healthy lunch or dinner.
Red, yellow and orange veggies such as carrots, sweet potatoes, red peppers and acorn squash are packed with carotenoids, fiber and vitamins to help your heart.
Popeye was right – spinach packs a punch! Use it in sandwiches and salads instead of lettuce.
Fruits such as oranges, cantaloupes and papaya are rich in beta-carotene, potassium, magnesium and fiber.
Tender, sweet asparagus is filled with mighty nutrients such as beta-carotene, folate and fiber, and only provide 25 calories per cup, or 5 calories per large spear.
Tomatoes – even sun-dried varieties in winter months – provide lycopene, vitamin C and alpha- and beta-carotene.
Dark chocolate is good for your heart health, but just be sure that it's at least 70 percent cocoa.
Crisp, fresh broccoli florets dipped in hummus are a terrific heart-healthy snack with a whopping list of nutrients, including vitamins C and E, potassium, folate, calcium and fiber.
Source – WEB MD
1) Too much sitting or driving could be trouble
If you want to stay heart healthy, it might make sense to cut back on driving and watching TV. In one analysis of data from nearly 30,000 people in 52 countries, those who owned both a car and TV had a 27% higher risk of heart attack than those who owned neither. However, the researchers caution that lack of physical activity—not the cars or TVs themselves—are the culprit.
Massy tip: If your job requires you to sit majority of the day, try to get in at least 1 hour of physical activity a day. Jogging, swimming or even walking the Massy stores aisles 
2) A Mediterranean style diet helps
This type of diet emphasizes eating foods like fish, fruits, vegetables, beans, high-fiber grains, and olive oils rich with monounsaturated fats, fiber, and omega-3 fatty acids, and limits eating cheese and sweets.
3) Pollution hurts more than your lungs
We've always known pollution is bad for your lungs. Now scientists are finding that it's also toxic for your heart, even at low levels, according to research conducted at the Heart Institute of the Good Samaritan Hospital and the Keck School of Medicine, University of Southern California, both in Los Angeles.
When pollutants are inhaled, they trigger an increase in "reactive oxygen species," which are superoxiding molecules that damage cells, cause inflammation in the lungs, and spark a cascade of harmful effects in the heart and cardiovascular system. Hearts exposed to pollution are also at higher risk for arrhythmias.
4) Female heart attack symptoms may differ from that of a male
When it comes to matters of the heart, men and women definitely aren't created equal. For instance, a man's heart weighs about 10 ounces, while a woman's heart weighs approximately 8 ounces.
Not only is a woman's heart smaller than a man's, but the signs that it's in trouble are a lot less obvious. When women have a heart attack — and more than a half million do each year — they're more likely to have nausea, indigestion, and shoulder aches rather than the hallmark chest pain.
5) Laughter: The good heart medicine
Health experts now have proof that laughter is good medicine.
A good belly laugh can send 20% more blood flowing through your entire body. One study found that when people watched a funny movie, their blood flow increased. That's why laughter might just be the perfect antidote to stress.
When you laugh, the lining of your blood vessel walls relaxes and expands. So have a good giggle. Your heart will thank you.
If you are leading a busy lifestyle and you are dining out frequently, you should make a point to eat at home more often. Eating at home requires more time and effort, but it can be beneficial to you in many ways. Here are six reasons why you should stop dining out.
1. Save Money
One of the most important benefits of dining at home is that you can save money. Meat, vegetables and other ingredients from Massy Stores are very affordable, and the total cost of a homemade meal is much less than the cost of a meal at a moderately expensive restaurant. If you buy food from say the local grill, you may end up spending about $50.00 for a meal. With this amount of money, you can actually prepare up to two or three ordinary meals at home. Eating at home will bring about substantial savings in the long run.
2. Healthy Lifestyle
Although restaurants are offering more nutritious food options these days, the choices are often limited. Most foods that are served in restaurants contain high amounts of sodium, fat and calories, and they can be detrimental to your health if they are consumed on a regular basis. If you eat at home, you can choose your own low-fat and low-calorie ingredients to prepare your meals. Eating at home is one of the best ways to promote a healthy lifestyle.
3. Know What You Are Eating
Another disadvantage of dining out is that you cannot know exactly what you are eating. While you can see the meats and vegetables that are used to prepare your meal, you may not know what ingredients go into the sauces and seasoning. Also, chefs can make mistakes, and they may accidentally add some things that they should not into your food. If you prepare your own food at home, you will know exactly what you are eating. This is especially important if you are allergic to certain foods.
4. Reduce Temptations
If you are going on a diet, eating at home can help you stay faithful to your diet plan. When you are dining out, you will be exposed to greater temptation to eat tasty but unhealthy food. Also, it is more likely that you will forget about your dietary restrictions if you are eating out with your friends. While it is possible to overcome the temptations, it is still better to stay away from such situations entirely.
5. Increase Energy
Eating nutritious food and living a healthy lifestyle will give you more energy, and it enables you to perform your daily duties with ease. Doing chores such as cooking and washing dishes will also make you more active, and it can help you become a more responsible person.
6. Family Time
Eating at home offers an excellent opportunity for family bonding. You can talk to your children about school or your spouse about their day at work over dinner.
(Article re-purposed from FitDay)
Plan walk-and-talk meetings
Instead of sitting down at a table, take a brainstorming stroll with a colleague. If you need to keep notes, book a distant conference room.
Get fit on the phone
Stand up to double your calories burned while you chat. Pace or march in place and you can blast about 225 calories for every hour you rack up throughout the day.
Use a small water glass
You'll boost your step count getting up for refills and bathroom breaks. Bonus plateau-breaker: Use the facilities on a different floor.
Buy a desk stepper
Burn around 91 calories in 20 minutes (without standing up!) with an under-the-desk cardio machine that works like a mini stair-stepper.
Start "e-mail-free Fridays"
Walk messages to colleagues as much as possible. The habit may stick the rest of the week, helping you lose weight faster.
Find fitness buddies
Challenge coworkers to a friendly step-count competition. Wear pedometers to see how much you walk in a week—winner gets a coffee.
courtesy: http://www.prevention.com
Take a multivitamin – since we do not obtain all the nutrients we need from the food we eat it is advisable to take a multivitamin supplement to help give us the necessary nutrients that is required.
Try to include omega-3 fatty acid into your daily diet- this can be found in fatty fish and plant oils respectively. They provide dietary support for the cardiovascular system, healthy cholesterol levels, eye and brain function and healthy skin.
Be sure to consume water or a sports drink before, during and after exercise. When we sweat, we not only lose water but we lose valuable electrolytes such as sodium, potassium and chloride which help to maintain proper fluid balance in the body.
Always check with your doctor when starting any physical activity program or workout. Be sure to start slowly and gradually build duration and intensity. Always begin with a warm-up and end with a cool-down to prevent injury – very important if you are 50 years old or older.
Get a tetanus booster once every 10 years.
Get a dental exam twice a year for oral health maintenance.
Wear a sunscreen containing at least SPF 15 and wear sun-protective clothing, a hat and sunglasses to protect your eyes and skin from damaging ultraviolet rays and decrease your risk of skin cancer.
If you choose to consume alcohol, do so in moderation. For women, this would mean no more than one drink a day and for men, no more than two.
Wash your hands often with warm water and an antibacterial soap to help prevent cold and flu and the spread of other bacteria and germs. If water and soap is unavailable, you can use hand sanitizer.
Tell your doctor about all the medications, over-the-counter medicines and dietary supplements that you're taking – especially if he/she is prescribing something new or trying to diagnose a problem.